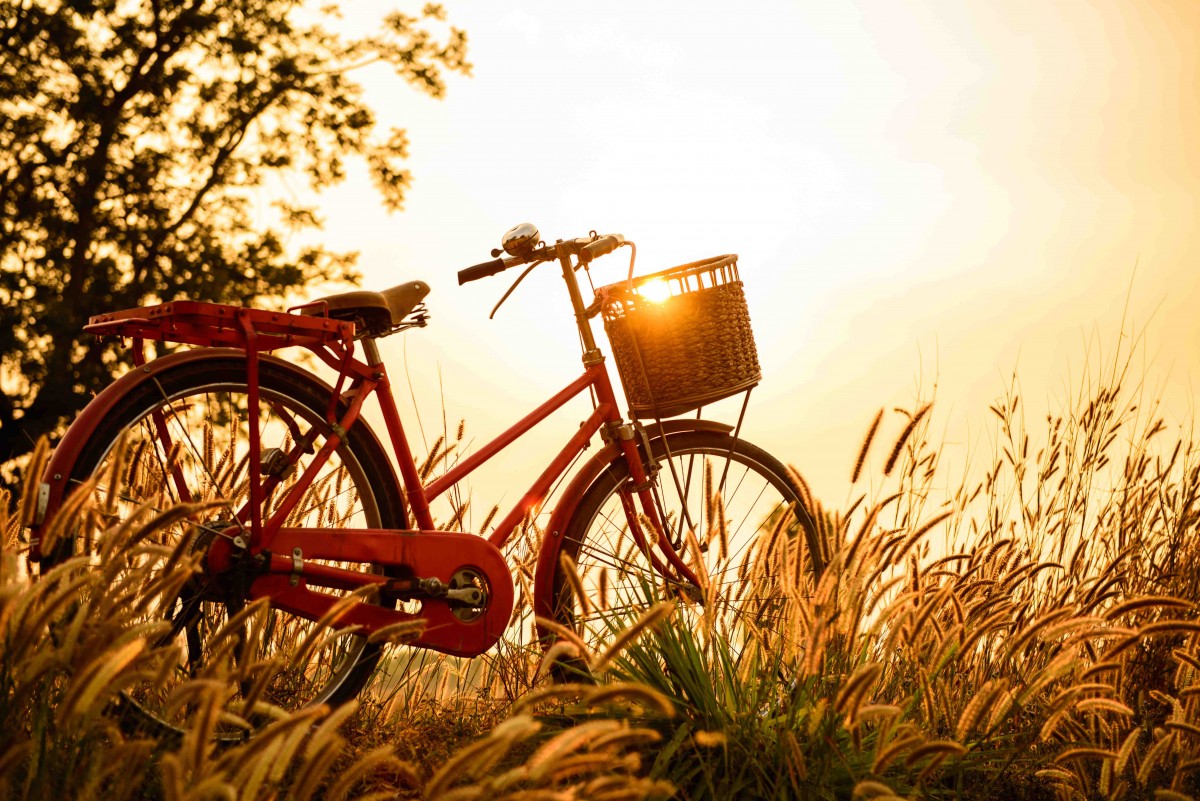 An amazing bike trip that will leave you open-mouthed, through two regions rich in water and vegetation, in which you will face different environmental sceneries. But suddenly, wherever you are, olive groves and vineyards could appear swaying in the woods, down the long red and yellow hills, color arid stretches of road, accompanying our journey. Everything to reach charming villages and cities where the beauty of nature joins the wonders of art and the pleasure of a great kitchen.
Day 1: Arrival in Lucca
Independent arrival in Lucca and settling into the hotel. Lucca can easily be reached by local trains or buses from Pisa and Florence, where Tuscany's main airports are. Pisa in particular is only 25 minutes away. Private minibus transfers from the airports can be arranged on request.
Day 2: Lucca-Montecatini Terme
lenght: 48 km accumulated climb: 320 m
Lucca, with its narrow streets lined with historic buildings and its four kilometres of pedestrian promenade around the old wall, merits a cycle around the fascinating old town before setting off on the first leg of our tour, which will take us to Montecatini Terme. The journey is mostly through countryside, on the olive oil and wine routes in the DOC areas of Colline Lucchesi and Montecarlo, bringing us into contact with our first traditional Tuscan cuisine. The local roads take us through small towns, past rural churches, farms and wineries to Montecarlo, a medieval village at the top of a rolling green hill famous for its wines, which differ from Chianti as French grape varieties are widely grown here and blended with the local Sangiovese. On the way to Montecarlo the undulating road will delight lovers of ascents and descents. From Montecarlo to Montecatini Terme the scenery changes completely and we find ourselves on a plain surrounded by plantations of flowers in the famous nursery growing area which extends as far as Pistoia.
Day 3: Montecatini-Firenze
lenght: 62 km accumulated climb: 630 m
Montecatini Terme is beloved by visitors to the area because of its liveliness and its famous thermal baths, spas and wellness centres. We recommend therefore that you enjoy the thermal waters and relax in one of the centres to melt away the day's fatigue and prepare yourselves for the next stage. The second leg of the tour takes us to Florence, a magical journey through the countryside where Leonardo da Vinci was born and developed his genius. From Montecatini to Vinci, through gentle hills and classic Tuscan scenery, the venue for this year's cycling world championships in September. And then further south towards Montelupo Fiorentino to Signa, traversing the Parco Mediceo around Poggio alla Malva, where you can enjoy spectacular views of the Arno and Pesa valley as far as Chianti as you rest between vines, olive groves and ancient ruins. From here to Florence the route mainly follows the river, taking us right into the heart of the city; once arrived at our destination we abandon the bikes and pretend to be "normal" tourists for a while as we explore the countless courtyards, squares, palaces, museums, churches, markets and boutiques the city has to offer.
Day 4: Firenze-Radda in Chianti
lenght: 53 km accumulated climb: 1100 m
It is not easy to leave Florence, but the Chianti area awaits us, a completely different landscape, with areas of hills and woods and of course vineyards stretching to the horizon; in some places we find long, steep ascents of what could almost be called mountains. If you have not yet stopped off to visit a winery, this stage and the next ones are the perfect opportunity to do so. In Chianti it is easy to come across authentic and fascinating little towns like Panzano and Radda in Chianti, to name but two of the places worth a stop. Our aim is to reach Radda, but picking up the nuances of this landscape along the way.
Day 5: Radda in Chianti-Siena
lenght: 45 km accumulated climb: 600 m
At Radda in Chianti we join the permanent route of l'Eroica, a cycling event which happens every year in this region and which recalls the good old days of cycling and its pureness of intent. In close contact with nature, the race takes place on the famous "white" or unpaved roads so characteristic of the area. We will follow this route through classic Chianti country, with its famous vineyards and its high wooded hills. After a few kilometres we find the first splendid white road to carry us through the green, first to the town of Vertine and then to Gaiole in Chianti. From here, an enjoyable ascent through the woods on asphalt and we arrive at Castello di Brolio, a jewel belonging to the Ricasoli family, offering fabulous views and excellent wines. We descend through the vineyards towards the magnificent city of Siena, which rises on the horizon like a postcard of itself.
Day 6: Siena-Montalcino
lenght: 54 km accumulated climb: 950 m
Following the route of l'Eroica, we leave Siena and enter the gentle hill country south of this city famous for the Palio. Our route features ups and downs, a pleasure on a bicycle. Green, red and yellow alternate with the seasons and the crops, but the result is always a feeling of perfect harmony with nature. Via a mixture of white roads, gravel tracks and asphalt we pass Radi, Vescovado and Buonconvento, to reach the southernmost point of our tour, with a long ascent to Montalcino, a land devoted to producing the excellent Brunello wine which is a large part of everyday life here. In this way we discover another story, another tradition, and of course other foods and wines, each of them obviously the best in Tuscany....
Day 7: Montalcino–Montepulciano
lenght: 42 km accumulated climb: 900 m
As we reach the final leg of our tour we will be confident that we understand Tuscany, its ups and downs and the Eroica spirit which inspires us in search of landscapes, people, food and the pure sensations which impel the true cyclist to throw himself into each new adventure. We will be confident, we said, but each stage of our journey will bring new discoveries to alter our judgements and impressions. Val d'Orcia and the land around Pienza and Montepulciano is the part of Tuscany you may well remember seeing in a thousand postcards. Our route takes us right into the postcards and on to the far horizon, to the end of the land... of Tuscany, ready for the next adventure, in Umbria...
UMBRIA
Giorno 8: Montepulciano–Castiglione del Lago
lenght: 37 km accumulated climb: 180m
Today we go down from Montepulciano and we cross the Val di Chiana to enter in Umbria. A nice ride in a hilly landscape takes you to the shore of Lake Montepulciano, a natural park Passing small villages with beautiful views over Lake Trasimeno, set among rolling hills covered with Olive trees we arrive to Castiglione del Lago, which stands proud on a spur. From the city center you have a spectacular view of the lake and its three islands.
Giorno 9: Castiglione del Lago–Orvieto
lenght: 69 km accumulated climb: 690m
After breakfast back on the saddle leaving Castiglione del Lago and with a last look we say goodbye to the lake Trasimeno. Before arriving to Chiusi you can visit the catacombs of Santa Mustiola, an ancient tomb of a family which later became Christian. Santa Mustiola was persecuted and imprisoned by Turcio, vicar of the Roman emperor Marcus Aurelius Claudius. She managed to reach the lake of Chiusi and "embarking" on his coat escaped over the waters. Even today, on July 3rd this event is remembered in a celebration while April 3rd it is said that on the waters of lake you can see the golden wake of his cloak. In Chiusi there is so much to see, but of great interest is the visit to the Labyrinth of Porsena, a series of underground passages under Piazza del Duomo, the Cathedral and the surrounding buildings. With ups and downs we arrive to Orvieto, the magnificent ancient city rich in art and culture. The old city is located on a tuff cliff and here certainly worth a visit to the magnificent Duomo.
Giorno 10: Orvieto-Todi
lenght: 45 km accumulated climb: 880
Today a nice ride along a quiet and scenic road!. The climbs are longer, but the route is shorter. The destination is Todi with its wonderful square and stunning views across the valley of the Tevere. The city was founded by the Umbrians on the border with the Etruscan lands giving the name of Tutere, which means City of the border. Even in this beautiful town there is much to see as the Cathedral, the Bishop's Palace, Palazzo dei Priori and the People's Palace, seat of the Civic Museum.
Giorno 11: Todi–Spoleto
lenght: 62 km accumulated climb: 645
Leaving the Tiber Valley we enter the Valle Umbra. Near Montefalco you can choose to visit this charming medieval village, famous for its fine wines Montefalco Rosso and Sagrantino. Riding on country roads surrounded by a hilly landscape full of fields and vineyards we arrive to Spoleto, a town where the culture has left its mark and where you immediately feel at home. Dominant is its proud castle on the highest point of the city, but it's worth a visit to the cathedral with frescoes by Filippo Lippi, the medieval house and the archaeological museum located in the former monastery of St. Agatha. In the evening the city is lively and welcoming with its bars and restaurants.
Giorno 12: Spoleto-Assisi
lenght: 53 km accumulated climb: 280
Today's itinerary crosses the Umbrian valley, which has all the features of the Umbrian landscape: a plain surrounded by gently rolling hills of olive groves and vineyards, medieval villages and castles, abbeys and monasteries, a land full of ancient tastes and traditions. Before arriving to Assisi we pass Foligno, situated in the plain and it has not only a beautiful cathedral, but it is also named for shopping. After a short climb you enter the historical center of Spello with its narrow medieval streets decorated with bright colors of the flowers on the balconies. A road through the olive groves takes you to Assisi, a symbol of peace, land of saints, churches, monasteries and convents, buildings in which the devotion goes hand in hand with art.
Giorno 13: Ring around  Assisi
Today you can choose from a full day of culture in the city (A) or a ride in the name of nature (B)
A: Assisi – Perugia – Assisi
lenght: 62 km accumulated climb: 565
Through the center of Assisi, with up and down we arrive to the village of Ripa. The road continues over a ridge with a breathtaking view to the city of Perugia in the background. Perugia by bike is difficult to reach because of the busy streets and steep climb, so after arriving to the station of Ponte San Giovanni we take the little train that takes us to the center of Perugia in 8 minutes. Perugia is a lively city of extraordinary beauty, rich culture, historic monuments, museums, events, stores for shopping and typical wine bar where you can enjoy the famous Umbrian wines. Get off the train at Ponte San Giovanni and back to Assisi cycling on quiet streets of the valley.
B: Monte Subasio
lenght: 40 km accumulated climb: 655
A beautiful tour of the natural park of Monte Subasio, a real paradise where you ride in the green and in the silence. The tour passes through Spello and begins to climb to Collepino a small village where you can take a break in the bar of the village. Keep going up until Armenzano, then begins the descent to Assisi and your hotel.
Giorno 14: Departure from Assisi
After enjoying the morning in Assisi once again, you can come back to the airport by train or by private transfer on request
Information
Days/nights: 14 days/ 13 nights
Level: Challenging - For cyclists with some experience and good fitness level
Accommodation: Charming 4 stars hotels.  
Guide:  GPS, Information, roadbook, maps -  PERSONAL GUIDE ON REQUEST (FOR FEW  DAYS ALSO)
Assistance: Emergency number. Our base in Tuscany allows us to have daily news and full control of each situation.
Luggage: Transportation between hotels
Tours: from 35 to 70 km mostly on local roads and white roads
Climb: hilly landscape - accumulated climbs from 240m to 1100m per tour.
Meeting: briefing upon arrival at the hotel in Lucca
RATES ON REQUEST ACCORDING TO  THE NUMBER OF PARTICIPANTS.